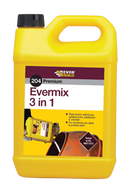 Description
Evermix 3 in 1 triple action admixture waterproofs, plasticises and retards to assist workability, reduce water penetration and allow larger areas to be covered in one application.
Evermix 3 in 1 is particularly formulated for use in renders, dry dash and pebble-dashing, however it can also be used in any cement mixture where waterproofing and increased workability are required in conjunction with retarded setting.
Payment & Security
Your payment information is processed securely. We do not store credit card details nor have access to your credit card information.