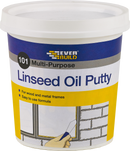 Description
Multi-Purpose Putty is specially formulated using only the best grade linseed oil, for glazing single glass into metal, softwood and hardwood window frames.
? Easier to apply than most competitive putties.
? Extended shelf life.
? For wood and metal frames.
Added plasticiser improves adhesion and helps prevent cracking.
Payment & Security
Your payment information is processed securely. We do not store credit card details nor have access to your credit card information.