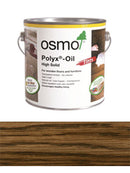 Description
Osmo Polyx-Oils are developed from natural oils and waxes to provide the most hardwearing and durable protection for wooden flooring and furniture.
All the renowned properties of the original Polyx-Oil, tinted for individual creativity. Polyx-Oil Tints are water-repellent, dirt-resistant and durable. The surface is pleasant to touch, has an even and harmonic optic and is based on natural, renewable raw vegetable materials.
Payment & Security
Your payment information is processed securely. We do not store credit card details nor have access to your credit card information.