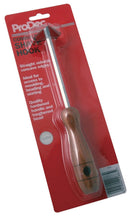 Description
Prodec Combination Shavehook
Combination shavehook - a sharpened ground steel blade with a different shape on each side for stripping paint and varnish from flat and irregular surfaces including cove, quadrant, pipes and mouldings. Rosewood handle and stainless tooling.
Payment & Security
Your payment information is processed securely. We do not store credit card details nor have access to your credit card information.