This is a blog shared from our Earthborn paint producer...

The eco-friendly paint market has grown significantly in recent years. This is great news because it gives customers far greater choice in the products available. And it also shows that the environment is now at the forefront for many brands, hooray!
However, the term 'eco-friendly' can also be a bit confusing. What exactly makes a paint eco-friendly? Is there such a thing as all-natural paint? And does non-toxic mean it doesn't contain chemicals? Here we separate fact from fiction and explain in our guide to environmentally friendly paint.
A bit more about Earthborn…
Our paints were first developed with the simple intention of producing eco-friendly paints that are better for the environment and healthier to live with.
At that time, many paints still contained high levels of VOCs. And oil based, highly toxic paints were still the market leaders. We knew there must be an alternative and our research led us to Claypaint, a highly breathable paint free from oils and acrylics with no nasty paint smells.
As our range of finishes grew, we were determined that all our products would continue to be free from harmful emissions with no added VOCs, with the level of synthetic ingredients kept to a minimum.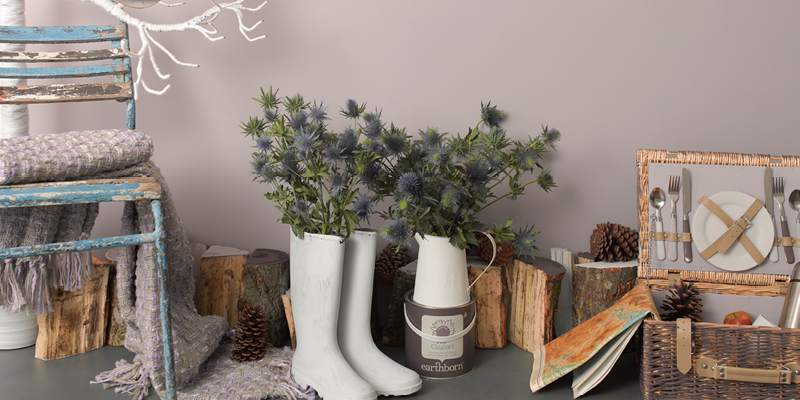 Does Earthborn produce natural paints?
The short answer is no; there is no such thing as a liquid natural paint in a tin!
All paints by necessity contain some synthetic chemicals. For instance water based paints require a preservative to keep them 'fresh', otherwise they would go off before it even reaches your home! Earthborn's paints have to contain things which ideally we would not use, such as synthetic binders and a biocide. All liquid paints contain synthetic binders – but like wine, ours is produced from natural ingredients. We use a food grade biocide in much reduced quantities.
The perception of 'natural' held by most people is a positive thing – but this is not entirely accurate. People say natural when what they usually want is something healthy, wholesome and with minimal impact of the environment. That is what Earthborn paints are designed to be and that is what makes our paints different.
Earthborn is ALWAYS open about its paints and ingredients and we NEVER call it natural. Healthy and minimal impact on the environment is the ethos enshrined in the Earthborn brand.
Are Earthborn paints non-toxic?
Earthborn's paints are completely non-toxic. When it comes to paint, non-toxic means it isn't poisonous and Earthborn paints do not contain any poisonous ingredients. However the terms 'non-toxic' isn't always helpful to consumers because it isn't a legislated phrase.
How can I be sure a paint is eco-friendly?
While there are no hard and fast rules when it comes to buying eco-friendly paint, here are some things you can check to help make a more environmentally friendly paint choice:
1. Check the ingredients
What is in the tin? We list all ingredients on our tins because there is nothing we'd hide in our paints. We know that our customers really care about the paint they put on their walls and we think that displaying ingredients is the best way to allow consumers to make informed decisions about what they are buying.
2. Look for independent accreditation and certification
If a company refers to their paint as green or eco-friendly look to see if anyone else is independently backing up their claims. At Earthborn we are proud to have been awarded the EU Ecolabel for our Claypaint and Eco Chic finishes.  This European award is completely independent and is based on our paints meeting the strict environmental and performance criteria of the EU Ecolabel scheme.
3. Is the paint child-safe?
Our paints are formulated with environmentally friendly ingredients, with no nasty paint smells or harmful emissions, making them safe to use in children's bedrooms and nurseries.
The following are certified as being safe to use on children's walls, furniture and toys, carrying the Safety of Toys Standard (EN71-3:2019): Claypaint, Eco Chic, Eggshell No.17, Lifestyle, Furniture Wax, Furniture Glaze, Multi Purpose Primer, Wall Glaze.
4. What other eco-friendly measures are in place?
Sometimes it's not just about checking the eco credentials of a certain product; it's the ethos of the whole brand too. At Earthborn we're always looking for ways to make our company practices more eco-friendly. For example, our environmentally friendly loose-fill (that's 'polystyrene' style foam chip) packaging is fully biodegradable and compostable, made from sustainable sources. Our colour cards are fully recyclable using biodegradable glue and our tins are produced with 70% recycled material.
Blog shared from our Earhborn producer https://earthbornpaints.co.uk/guide-to-eco-friendly-non-toxic-paint/